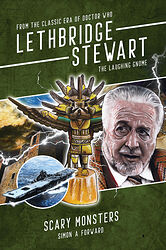 Note: Book 1 in The Laughing Gnome novel series.
Cover blurb:
Sir Alistair Lethbridge-Stewart is nearing the end of his life and has just buried another old friend. Feeling out of sorts, he is somewhat surprised to find himself in 1981. Some mysterious force has pulled him backwards in time, into his own past, an adventure he has only vague memories of...
1981: London, a bomb detonates in a London pub and Brigadier Alistair Lethbridge-Stewart is among the injured. Moscow, a hijacked plane sits on the airport runway and Major Grigoriy Bugayev leads the assault against the six gunmen holding the passengers hostage.
These are the triggers that set the two military men on an international manhunt. Their investigations converge and uncover a group of terrorists whose roots reach back to sinister Cold War experiments, and something that was unearthed in ancient ruins in the New Mexico desert by one Sophia Montilla... and Anne Travers.
Terror is a contagion. It means to spread. And humanity is set on doing everything in its power to help it...