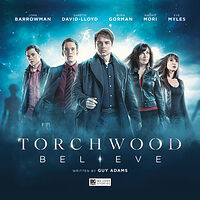 Note: Exclusively available from the Big Finish website until June 30th.
Cover blurb:
The Church of the Outsiders believe that mankind is about to evolve, to reach out into the stars. Owen Harper believes that Torchwood has to do whatever it takes to stop them.
This special adventure reunites the original cast of Torchwood for the first time since 2008.