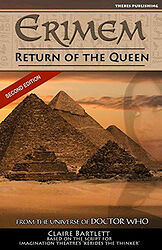 Edition:
2nd paperback
When:
October 2018

ISBN:
978-1-72934-355-5
Format:
paperback
Owned:
Buy:
Note: It is unclear how this 2nd edition differs from the first edition above, apart from being available via Amazon (hence presumably print-on-demand)
Cover blurb:
'He was the son of a Pharaoh and the brother of a Pharaoh. Respect his memory or I will make you do so, I swear it.'
In 276BC Alexandria, a soothsayer makes an extraordinary claim... the well-known charlatan announces that she is possessed by the consciousness of the forgotten Pharaoh Erimemushinteperem...
Enlisting the help of Pharaoh's Vizier, the leader of Egypt's armies and of the most famous investigator in Alexandria, Erimem sets out to protect Egypt from attack... and to protect her brothers, whose eternal rest is in peril.
Based on and expanded from the script 'Return of the Queen' from Imagination Theatre's 'Kerides the Thinker' radio series, written by Claire Bartlett and Iain McLaughlin