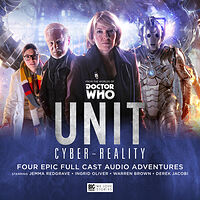 Note: Exclusively available from the Big Finish website until July 31st.
Cover blurb:
The Auctioneers. A secret global network, collecting and exploiting alien technology for maximum profit. After they threaten UNIT, the consequences are grave. Kate Stewart has vowed to take them down.
But another menace is close. The Cybermen are coming, and UNIT's only hope could be its greatest enemy. The Master.
Game Theory by Matt Fitton
Telepresence by Guy Adams
Code Silver by Guy Adams
Master of Worlds by Matt Fitton