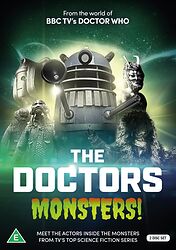 Note: DVD compilation of previously-released material, including the documentary I Was a Doctor Who Monster, plus the Myth Makers interviews with Ray Cusick, Cy Town, Michael Wisher, David Banks and Jack Pitt.
Cover blurb:
No cover information available yet.
Help wanted! Do you own this item? Please help make this site more complete by emailing me details of the back cover blurb. Thanks!