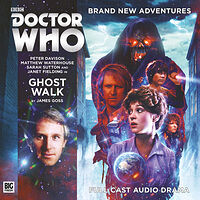 Note: Exclusively available from the Big Finish website until March 31st.
Cover blurb:
This is a city of ghosts and no-one knows them better than Leanne. Twice a night she leads tourists on a tour of the most haunted sites — the Hanging Yard, the Witch Pool, the Screaming House, and, of course, the Catacombs.
Leanne's realised the ghosts of the city are real. Something's lurking in the Catacombs — an ancient force that has been growing in the darkness for centuries. Sabaoth is returning and he must be stopped before he devours the world. Leanne knows this, because a ghost told her. A ghost called The Doctor.