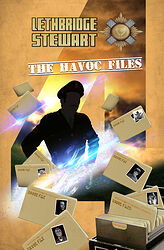 Note: Follow-up to The HAVOC Files, The HAVOC Files 2 and The HAVOC Files 3. Limited edition of 400 copies, now sold out. A tie-in to the ongoing range of Lethbridge-Stewart novels, this is a collection of short stories featuring the Brigadier. 4 of the included short stories are new and exclusive to this volume, while the rest were previously published digitally.
Cover blurb:
Strange goings on in a small English village, training for new members of the Fifth Operational Corps, fast and furious fun at the Radio One Roadshow, two Brigadiers take on the most notorious aliens in the galaxy, Lethbridge-Stewart encounters a unicorn in Linfield, and Anne Travers and Bill Bishop go on their first date...
Just some of the strange tales that make up HAVOC 4, which features four brand new short stories, including one by Wink Taylor, who has written for both Sooty and Basil Brush. Plus four stories previously only available in digital format, including one by popular author Nick Walters.
From the classic era of Doctor Who, starring Brigadier Lethbridge-Stewart and Anne Travers, based on the characters created by Mervyn Haisman and Henry Lincoln.
Contents:
The Contented Mind by Wink Taylor
The Runaway Bomb by Nick Walters
United in Blood by Mark Jones
The Cruel Oil by Harry Draper
All the Kings Men by Alyson Leeds
The Great Magician and the Spirits of the Vasty Deep by Gareth Madgwick
'48 Crash by Mark Carton
The Slow Invasion by Andrew Allen
The Two Brigadiers by Jonathan Macho
When Times Change... by Andy Frankham-Allen