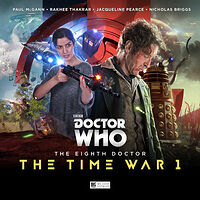 Note: Exclusively available from the Big Finish website until Dec 31st.
Cover blurb:
A terrible war is being waged through space and time, as two powerful enemies rip the cosmos apart in a final struggle to the death.
The Doctor stands apart from this conflict: he is not a warrior, but a healer.
But the Time War is snapping at his heels, and soon he will have no choice but to turn and face its horrors...
The Starship of Theseus by John Dorney
Echoes of War by Matt Fitton
The Conscript by Matt Fitton
One Life by John Dorney