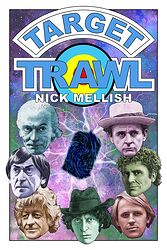 By:
Nick Mellish
When:
29 June 2019

Publisher:
Pencil Tip Publishing
ISBN:
978-0-9953195-5-4
Format:
paperback
Owned:
Buy:

| | | |
| --- | --- | --- |
| | | (Not currently available) |

| | | |
| --- | --- | --- |
| | | (Not currently available) |

| | | |
| --- | --- | --- |
| | | (Not currently available) |
Cover blurb:
One man's journey to read every single Target Doctor Who novel
For many, the words Doctor Who and Target novelization go together like jelly and baby, or hiatus and charity record. In a time where recording TV was often impossible, these novelizations offered fans a chance to relieve the very best the show had to offer, and Timelash. No more would a story be here today and gone tomorrow: now they were permanent features on your bookshelf.
Sometimes these novelizations were slavishly accurate to what had been transmitted; sometimes they were anything but. In this age of streaming, DVDs, BluRays and repeats, are they still essential reading today?
Join writer, fan and crazed man Nick Mellish as he reads them all, and writes the words Terrance and Dicks more than any man rightly should.
Will he fall in love with the show all over again, or will a little reading prove to be a dangerous thing?
Target Trawl takes you from Skaro to San Francisco with all manner of trips in-between, and even a few side steps along the way.
Based on the highly popular column by Nick Mellish from Whotopia Magazine.