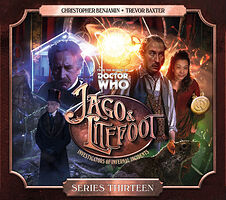 Note: Contains 4 audio adventures: The Stuff of Nightmares by Paul Morris, Chapel of Night by Jonathan Barnes, How The Other Half Lives by Matthew Sweet and Too Much Reality by Justin Richards.
Cover blurb:
Someone from the future has arrived in Victorian London on the trail of a renegade... but that trail leads them to Henry Gordon Jago and Professor Litefoot.
So begins an adventure that will propel the Infernal Investigators into unknown territory, and an encounter with two people they should avoid at all costs.
Themselves.