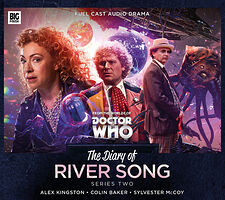 Note: Exclusively available from the Big Finish website until March 31st.
Cover blurb:
Time travelling archaeologist and adventurer River Song returns — and this time she will be stepping into the past life of the Doctor, encountering two of his incarnations at once!
From the space exploration vessel Saturnius — which is heading to a destination that never gets any closer — to a doomed planet Earth and beyond, River's journey will bring her closer to a new foe... and an encounter with both the Sixth and Seventh Doctors.