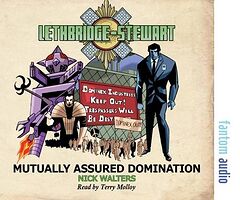 Note: Audio reading of the fourth Lethbridge-Stewart novel.
Cover blurb:
The Dominators, the Masters of the Ten Galaxies, have come to Earth, and brought with them their deadly robotic weapons, the Quarks!
It's the summer of '69. Flower power is at its height, and nuclear power is in its infancy. Journalist Harold Chorley is out of work, and Colonel Alistair Lethbridge-Stewart is out of sorts. Dominex Industries are on the up, promising cheap energy for all. But people have started going missing near their plant on Dartmoor. Coincidence, or are sinister forces at work?
Join Lethbridge-Stewart and uneasy ally Harold Chorley as they delve into the secrets behind Dominex, and uncover a plan that could bring about the end of the world.