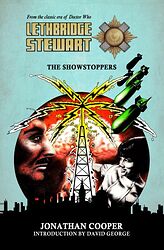 Note: Sixth in the series of Lethbridge-Stewart novels, following the character subsequently known as the Brigadier after the events of the classic Doctor Who story The Web of Fear.
Cover blurb:
'Nuzzink in ze vorld can schtop me now!'
There's a new TV show about to hit the airwaves, but Colonel Lethbridge-Stewart won't be tuning in. With the future of the Fifth Operational Corps in doubt he's got enough to worry about, but a plea from an old friend soon finds Lethbridge-Stewart and Anne Travers embroiled in a plot far more fantastical than anything on the small screen.
Can charismatic star Aubrey Mondegreene really be in two places at the same time? What lengths will ailing entertainment mogul Billy Lovac go to in order to reach his audience? And is luckless journalist Harold Chorley really so desperate that he'll buy into a story about Nazi conspiracies from a tramp wearing a tin foil hat?
There's something very rotten at the heart of weekend television, and it isn't all due to shoddy scripts and bad special effects.