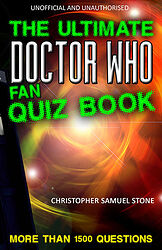 Cover blurb:
The Ultimate challenge for any DOCTOR WHO fan.
What was the name of the Doctor's Grand-Daughter?
What was the first regeneration story?
Who did the Tenth Doctor regenerate into after being shot by a Dalek?
What was the Eleventh Doctor's favourite food?
More than 1500 questions designed to find out how much of a DOCTOR WHO fan you are. Some are easy and some are brain-meltingly hard. These questions test your knowledge of the Doctor's adventures spanning more fifty years [sic] — and with some extra hard questions about his appearances on film, stage, audio and in novels.