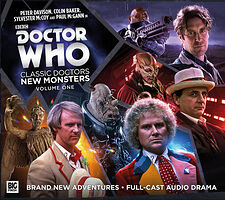 Note: Followed by Volume 2.
Cover blurb:
A brand new boxset of four adventures, featuring monsters from the new series of Doctor Who!
The Fifth Doctor takes on the Weeping Angels, the Sixth Doctor face the Judoon and the Seventh Doctor encounters the Sycorax.
And on a distant planet, the Eighth Doctor stands his ground against a new legion of Sontarans. A legion ready for the Time War...