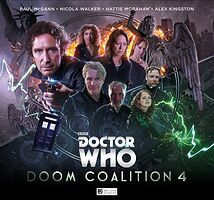 Note: Exclusively available from the Big Finish website until 30 April.
Cover blurb:
All known threats to Gallifrey — past, present and future — have been defeated, the universe has been destroyed, and the Doctor and his companions have been disposed of, tapped in an eternity of nothing with no means of escape.
The game is over. But when's that ever stopped the Doctor.
SHIP IN A BOTTLE by JOHN DORNEY
SONGS OF LOVE by MATT FITTON
THE SIDE OF THE ANGELS by MATT FITTON
STOP THE CLOCK by JOHN DORNEY