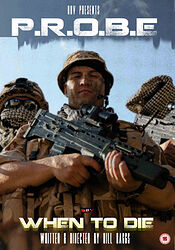 Note: A new 5th entry in the in the P.R.O.B.E. series of spinoff video dramas, about the activities of a Torchwood-esque agency called the "Preternatural Research Bureau", one of whom is Liz Shaw (onetime companion of the Third Doctor). Since Caroline John unfortunately passed away in 2012, in this new drama the character of Liz has been recast.
Cover blurb:
No cover information available yet.
Help wanted! Do you own this item? Please help make this site more complete by emailing me details of the back cover blurb. Thanks!