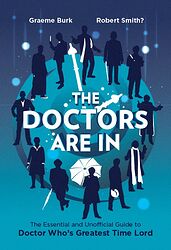 Cover blurb:
"Of great interest to any Doctor Who fan, and entirely suitable for a beginner too. That's a neat trick, and this book pulls it off with aplomb. A refreshing willingness to look again and look for themselves."
—Paul Cornell, author of The Severed Streets and writer of the Doctor Who episodes "Father's Day" and "Human Nature"/"The Family of Blood"
"Everything you've ever wanted to know about the world's most famous time traveller from the two most qualified Whovian experts (on this planet, anyways). Burk and Smith? take you through each incarnation of the Doctor and dissect what makes him tick, Fascinating, fun, and fantastic."
— Sam Maggs, author of The Fangirl's Guide to the Galaxy
THINK YOU KNOW THE DOCTOR? THINK AGAIN.
From his beginnings as a crotchety, anti-heroic scientist in 1963 to his current place in British pop culture as the mad and dangerous monster-fighting saviour of the universe, the titular character of Doctor Who has changed a lot in his 50 years on television — and not just his face. And yet the questions about him remain the same: Who is he? Why does he act the way he does? What motivates him to fight evil across space and time?
The Doctors Are In is a guide to television's most beloved time traveller from the authors of Who Is the Doctor and Who's 50. This is a guide to the Doctor himself — who he is in his myriad forms, how he came to be, how he has changed (within the program itself and behind the scenes)... and why he's a hero to millions.