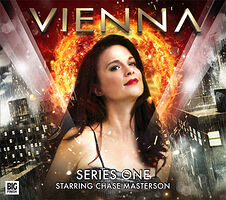 Note: Part of the series of spinoff audio dramas featuring the character Vienna Salvatori, who co-starred alongside the 7th Doctor in the audio The Shadow Heart.
Cover blurb:
Three brand new adventures for glamorous bounty hunter Vienna Salvatori.
Dead Drop by Mark Wright
Caught in a skirmish between the forces of the Dyarid Protectorate and the ruthless Chtzin, Vienna is trapped aboard the crippled starship Custodian. Can she stay alive long enough to escape before the ship plunges into the heart of a star?
Bad Faith by Nev Fountain
Wonder of Wonders! On the trail of an illegal faith stealing ring, Vienna comes to the attention of the Church of New Wonderment and its charismatic spiritual leader Bax Spendlove. When his followers start being murdered, it seems that Vienna isn't the only killer keeping the faith.
Deathworld by Jonathan Morris
On the planet Mercator, Vienna takes part in the Slaughter Games, competing against other assassins to be the last killer standing. But is everything as it seems, and will Vienna finally discover the truth about her past?