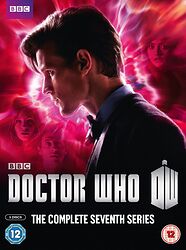 Edition:
UK (standard DVD)
When:
October 2013

Format:
5 x DVD
Owned:
Buy:
Note: Originally it was reported that 2011 Xmas special The Doctor, the Widow and the Wardrobe would not be included in this UK box set, but the BBC reversed this decision after fan pressure. The extras are as follows:
Audio commentaries for episodes: The Snowmen, Cold War, Hide, and The Crimson Horror
Prequels for: The Doctor, The Widow and The Wardrobe, Asylum of the Daleks, The Snowmen (The Great Detective, Vastra Investigates, Demons Run: Two Days Later), The Bells of Saint John and The Name of the Doctor (She Said, He Said, Clarence and the Whispermen)
Pond Life
As Good as Gold (exclusive to the UK version)
Featurettes: The Making of the Gunslinger, Creating Clara, Rain Gods, Clara and the TARDIS, Inforarium, and Clara's White Christmas
Behind the scenes featurettes for every episode (except The Doctor, The Widow and the Wardrobe)
Additional features: Last Days of the Ponds, The Science of Doctor Who, The Companions, and Doctor Who at Comic Con
Cover blurb:
No cover information available yet.
Help wanted! Do you own this item? Please help make this site more complete by emailing me details of the back cover blurb. Thanks!