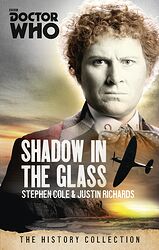 Edition:
2nd paperback
Title:
Shadow in the Glass
When:
February 2015

ISBN:
978-1-84990-905-1
Format:
paperback
Owned:
Buy:

New:
CDN$ 3.95
Used:
CDN$ 7.57
Note: For reasons best known to the publisher, "The" has been dropped from the start of the book's title. One of 8 "History Collection" reprints published simultaneously. The others were: The Witch Hunters (1st Doctor), The Roundheads (2nd Doctor), Amorality Tale (3rd Doctor), The English Way of Death (4th Doctor), Human Nature (7th Doctor), The Stone Rose (10th Doctor) and Dead of Winter (11th Doctor).
Cover blurb:
'THE DOCTOR IS A LEGEND WOVEN THROUGHOUT HISTORY.'
When an RAF squadron shoots down an unidentified aircraft over Turelhampton, the village is immediately evacuated. But why is the village still guarded by troops in 2001? When a television documentary crew break through the cordon looking for a story, they find they've recorded more than they'd bargained for.
Caught up in both a deadly conspiracy and a historical mystery, retired Brigadier Lethbridge-Stewart calls upon his old friend the Doctor. Half-glimpsed demons watch from the shadows as the Doctor and the Brigadier travel back in time to discover the last, and deadliest, secret of the Second World War.
AN ADVENTURE SET PARTLY IN THE SECOND WORLD WAR, FEATURING THE SIXTH DOCTOR AS PLAYED BY COLIN BAKER AND BRIGADIER LETHBRIDGE-STEWART.