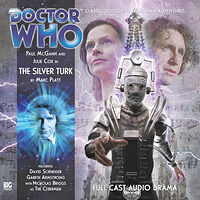 Cover blurb:
Roll up! Roll up! To the great Viennese Exposition, where showman Stahlbaum will show you his most wonderful creation, the Silver Turk — a mechanical marvel that will not only play for you the fortepiano, the spinet and the flute, it will play you at the gaming table too!
But when the Doctor brings his new travelling companion Mary Shelley to nineteenth-century Vienna, he soon identifies the incredible Turk as one of his deadliest enemies — a part-machine Cyberman.
And that's not even the worst of the horrors at large in the city...