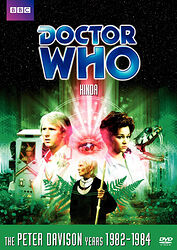 Note: This story is only being released separately in the US. In the UK and Australia it is instead being released as part of the Mara Tales box set, along with Snakedance.
Cover blurb:
The Doctor arrives on the paradise planet of Deva Loka to find a colonial mission on the verge of collapse. Several of its members have vanished into the jungle without a trace, leaving the survivors suspicious and paranoid. The mystery deepens as it becomes clear that the planet's native inhabitants, the Kinda, possess hitherto unsuspected powers that challenge human understanding.
Meanwhile the Doctor's companion Tegan becomes possessed by the Mara, a force of pure evil that lives in dreams and preys on fear.
DVD EXTRAS INCLUDE:
Audio Commentary by actors Peter Davison (The Doctor), Janet Fielding (Tegan), Matthew Waterhouse (Adric) and Nerys Hughes (Todd)
Dream Time Making Of featurette with Simon Rouse (Hindle), Adrian Mills (Aris), director Peter Grimwade, writer Christopher Bailey, script editors Christopher H. Bidmead, Eric Saward and Antony Root, and designer Malcolm Thornton (34 mins)
Peter Grimwade — Directing With Attitude Career retrospective (23 mins)
Deleted and Extended Scenes (14 mins)
Optional CGI Effects Sequence
CGI Effects Comparison (1 min)
Isolated Music Score Option
Photo Gallery (4 mins)
PDF materials: Radio Times Listings
Production Notes Subtitle Option
Digitally remastered picture and sound quality
Originally transmitted February 1, 2, 8, 9, 1982