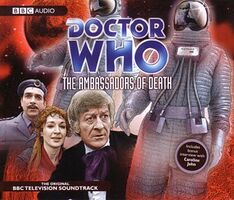 Note: This is an audio soundtrack of the TV story, with linking narration by Caroline John. Not to be confused with the novel reading of the same story, released in 2018. Due to declining sales, the BBC stopped releasing new TV audio soundtracks after this point, until they resumed 3 years later with Horror of Fang Rock.
Cover blurb:
No cover information available yet.
Help wanted! Do you own this item? Please help make this site more complete by emailing me details of the back cover blurb. Thanks!