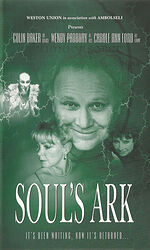 Note: X-Files-esque straight-to-video drama — the plot and characters have no explicit Doctor Who connection, but like The Airzone Solution and similar releases of the 1990s, the combination of a sci-fi setting and the casting of well-known Who actors are designed to appeal to fans of the programme. The sleeve lists the writer under the pseudonym "Weston Union".
Cover blurb:
People start mysteriously disappearing after a sarcophagus is discovered and opened at the site of an ancient British Encampment [sic]. Tension is high between the archaeologists, is someone's secret agenda being played out?
STELLA GRANT (Carole Ann Ford) has her suspicions which she hardly dare [sic] share with her agents, so when they too start going missing, she assigns GALLICO (Colin Baker) and KEEL (Wendy Padbury) to investigate the dig and an apparently unconnected series of events.
Somewhere, after an absence of centuries, SOMETHING has returned... with unfinished business and there's much more than the lives of those at the dig at stake...