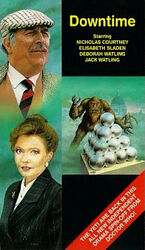 Note: Unofficial Doctor Who spin-off drama. This has more Who pedigree than most of the 1990s direct-to-video spin-offs, featuring as it does actual characters from the show, all played by the original actors (namely the Brigadier, Victoria, Sarah Jane and Professor Travers), not to mention the appearance of the Yeti as the villains of the piece. A "novelisation" of this drama was published as part of the Missing Adventures series, and a soundtrack CD was also released. Subsequently re-released on DVD. A sequel is being published as a novel in 2019.
Cover blurb:
"Find the Locus!"
It is twenty five years since The Great Intelligence last attempted an invasion of Earth, today its evil web is again reaching out towards us!
Using The New World University as its cover and the zombie-like Chilly students as its pawns, the Intelligence now seeks to control the mind of every human being.
Tangled in this new struggle are its old enemies Victoria Waterfield and Professor Travers — but whose side are they on?
Fighting alone this time, without their famous scientific advisor, The Brigadier and Sarah Jane Smith of UNIT are hard pressed to decide who is friend or foe as they search for the missing Locus which still binds the Intelligence's power.
Battle is joined as the Brigadier's own family is threatened and UNIT faces a monstrous new breed of Yeti!
This independently produced drama follows on from two BBCtv DOCTOR WHO stories THE ABOMINABLE SNOWMEN and THE WEB OF FEAR. All three stories are available as novels from Virgin Publishing. DOWNTIME is set before the DOCTOR WHO story BATTLEFIELD.