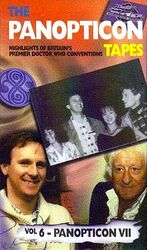 Edition:
UK (reissue VHS)
Title:
The PanoptiCon Tapes Vol 6 - PanoptiCon VII
Released:
January 1999

Publisher:
Reeltime Pictures
Format:
1 x VHS PAL
Owned:
Buy:
Note: Re-titled "The PanoptiCon Tapes Volume 6" to follow the other 5 videos in the PanoptiCon Tapes series — even though it was originally released before any of the other 5.
Also, this surely must set the record for the most exclamation marks on the back of any Doctor Who video!!!
Cover blurb:
Doctor Who has a devoted fan following who regularly meet at conventions to meet and hear from the many actors and production members that have worked on the long running show.
The video focuses on PANOPTICON VII, celebrating the TENTH ANNIVERSARY OF DWAS in 1986!!
Includes VINTAGE HOME MOVIES OF THE FIRST PANOPTICONS WITH GUESTS INCLUDING: TOM BAKER & PATRICK TROUGHTON!!!
Among those interviewed are PETER DAVISON, COLIN BAKER, JANET FIELDING, MATTHEW WATERHOUSE, NICOLA BRYANT, MARK STRICKSON, SARAH SUTTON amongst others!!!!
Recorded at PANOPTICON VII!!
This is a fascinating look at DOCTOR WHO from the convention perspective!!!