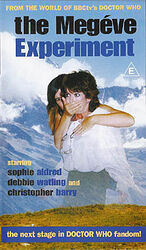 Note: Subsequently re-released on DVD. In what must really annoy any French speakers who own this, the placename Megève is consistently mis-spelt as Megéve on the packaging (i.e. with an acute accent instead of a grave accent on the second E).
Cover blurb:
The Megéve Experiment follows a group of Doctor Who fans in the beautiful French resort of Megéve, being taught the rudiments of acting and film production by Sophie Aldred, Deborah Watling and Christopher Barry.
The team have 2 weeks to learn the necessary skills to perform in a Doctor Who short film. Does the experiment succeed? Judge for yourself...