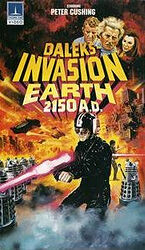 Edition:
UK (original VHS)
When:
April 1982

Publisher:
Thorn EMI
Format:
1 x VHS PAL
Owned:
Buy:
Note: Released on both VHS and Betamax.
Cover blurb:
When Dr Who returned to cinema screens in 1966, it was noticeable that the old boy was a good deal less absent-minded and considerably more a man-of-action than he had been in the earlier film, Dr. Who and the Daleks. Possibly a year spent roaming about in time and space had had a rejuvenating effect on him, which was just as well, because the Daleks had learned a lot of new and even nastier tricks for their Invasion Earth 2150 A.D.
This exciting tale starts in the present day when Special Constable Tom Campbell (Bernard Cribbins) gets zonked on the head by a crook driving a getaway car and dashes to what he thinks is a police box to 'phone for help. His eyes nearly drop out of his head when he finds himself inside the Tardis with the Doctor, his granddaughter Susie (Roberta Tovey) and his niece Louise (Jill Curzon). Seconds later, give or take a gasp of amazed disbelief from Tom, the door of the Tardis opens on the deserted ruins of London over 200 years in the future. Our intrepid explorers find they are not quite alone: a handful of resistance fighters (among them Ray Brooks and Andrew Keir) are waging a guerilla war against the Daleks, who have landed in force from a flying saucer. If they are caught — and not ex-ter-min-ated — they will be turned into mindless Robomen or sent to work as slaves digging a deep mine near Bedford. Hand-made bombs and a few guns are all they have to fight with, so our side looks like losing the struggle for freedom until Dr Who applies his brilliant brain to deducing what the Daleks need from Earth. Only then will he know their weakness and be able to devise a way of destroying them — which he does, with spectacular results! Made for an older audience than Dr Who and the Daleks, Invasion Earth is all action and suspense, without being too horrific for family viewing.
MARJORIE BILBOW