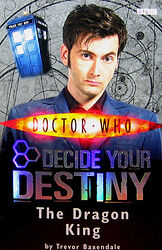 Note: One of 12 Decide Your Destiny books published between 2007-2008.
Cover blurb:
Join the Doctor on his travels through time and space and influence the story with your decisions. Choose a direction and let the adventures begin...
Your journey takes you to the planet Elanden, where people live side by side with dragons. But hunters from a neighbouring planet are attacking... Can you restore peace to these two clashing worlds?