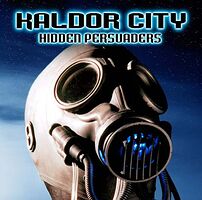 Note: Third CD in the spin-off Kaldor City audio drama series, which uses the same setting and characters as classic Fourth Doctor TV story The Robots of Death and novel Corpse Marker.
Cover blurb:
"Nothing is yet known of the terrorists' demands, but Security remain poised to act instantaneously on any information received."
Terrorism is on the increase and — amidst a media frenzy — hostages are being taken. The Church of Taren Capel are fighting back and nobody in Kaldor City is safe. Who is behind the cult's remarkable success, and what is their next target? Most importantly, when it comes to politics, who really has the most to gain?
Kaldor City — Hidden Persuaders uses characters and themes that appear in Chris Boucher's Doctor Who novel Corpse Marker to tell a gripping tale of corruption and media manipulation