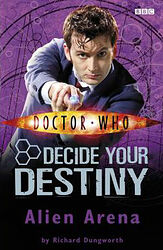 Note: One of 12 Decide Your Destiny books published between 2007-2008.
Cover blurb:
Join the Doctor and Martha on their travels through time and space and influence the story with your decisions. Choose a direction and let the adventures begin...
You're on an alien prison ship in the midst of mutiny! The ringleader, Mr Big, has created an arena, where aliens from all over the universe are fighting each other. Only your quick wits, and a little help from the Doctor and Martha can help you escape the arena!