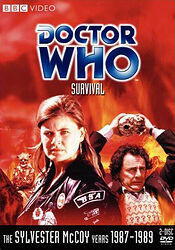 Edition:
US (DVD)
When:
August 2007

Format:
2 x DVD
Owned:
Buy:

| | | |
| --- | --- | --- |
| | | (Request failed) |
Note: The last line of the blurb mistakenly refers to "Destiny of the Daleks" instead of "Destiny of the Doctors".
Cover blurb:
The Doctor takes Ace back to her hometown of Perivale, only to find that something is very, very wrong. Many of Ace's old friends and neighbors have disappeared while domestic pets become victims of unseen killers. Will the hunter become the hunted when only the fittest survive?
DVD Extras Include:
Commentary by Sylvester McCoy (The Doctor), Sophie Aldred (Ace) and Andrew Cartmel (script editor)
Fan Commentary by the winners of a recent Doctor Who Magazine Competition (Ep 3 only)
Cat Flap — Two-part commentary covering the making of Survival
Deleted and Extended Scenes
Outtakes
Continuities
Photo Gallery
Isolated Score
Radio Times Listings
Subtitle Production Notes
Endgame — Documentary delving into why Doctor Who was cancelled at the end of Season 26 and what might have been in store for the Doctor and Ace if the series had continued into Season 27
Search Out Science — Schools program featuring the Doctor and Ace, with Shephen Johnson and K9
Little Girl Lost — Retrospective look at the development of Sophie Aldred's character, Ace
Destiny of the Daleks — Anthony Ainley's last appearance as the Master, in these links from the 1997 computer game