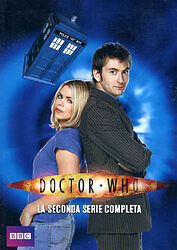 Edition:
Italy (1st DVD)
Title:
La Seconda Serie Completa
Released:
April 2011

Publisher:
DNC
Format:
4 x DVD
Owned:
Buy:

| | | |
| --- | --- | --- |
| | | (Unable to fetch price) |
Note: Contains a choice of English or Italian audio, plus optional Italian subtitles.
Cover blurb:
TEMPO E SPAZIO SENZA CONFINI!
Continuano le avventure del Dottore in viaggio tra le varie ere grazie alla sua macchina del tempo, Tardis. In questa emozionante seconda stagione, dovrà salvare la regina Vittoria nell'Inghilterra del 1879 da un tentativo di trasformarla in un lupo mannaro, per poi trovarsi catapultato nella Londra del 2006 dove un miliardario sta finanziando una ricerca per la creazione di Cybermen che prenderanno il controllo del mondo
Queste e tante altre vicende aspettano il Dottore, che in questa serie è interpretato da DAVID TENNANT (Harry Potter e il calice di fuoco), sempre accompagnato dalla bella Rose, interpretata da BILLIE PIPER (Evita).
4 DISCHI PIENI DI EVENTI AI LIMITI DELL'UMANO!
IN ONDA SU Rai4
EPISODI
2.01 La vendetta di Cassandra (New Earth)
2.02 L'impero del lupo (Tooth and Claw)
2.03 Una vecchia amica (School Reunion)
2.04 Finestre nel tempo (The Girl in the Fireplace)
2.05 L'ascesa dei cyber-uomini - Prima parte (Rise of the Cybermen)
2.06 L'ascesa dei cyber-uomini - Seconda parte (The Age of Steel)
2.07 La trasmittente (The Idiot's Lantern)
2.08 L'abisso di Satana - Prima parte (The Impossibile Placet)
2.09 L'abisso di Satana - Seconda parte (The Satan Pit)
2.10 Sulle tracce del mito (Love & Monsters)
2.11 La disegnatrice (Fear Her)
2.12 L'esercito dei fantasmi - Prima parte (Army of Ghosts)
2.13 L'esercito dei fantasmi - Seconda parte (Doomsday)