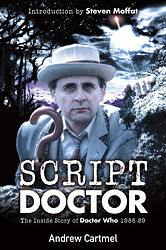 Edition:
UK (2nd paperback)
Released:
November 2013

Publisher:
Miwk Publishing
ISBN:
978-1-908630-68-1
Format:
paperback
Owned:
Buy:

New:
CDN$ 472.42
Used:
CDN$ 371.39
Note: Revised edition, containing a small number of corrections and tweaks to the text, but also a new introduction by Steven Moffat, a new afterword by Sophie Aldred and a new coda from Andrew Cartmel, plus many more photographs than the original edition. Reissued in mid-2019, but this appears to be a straight reprint with the same ISBN, cover & contents, so not listed separately here.
Cover blurb:
"There are worlds out there where the sky is burning, and the sea's asleep, and the rivers dream. People made of smoke, and cities made of song. Somewhere there's danger, somewhere there's injustice, and somewhere else the tea's getting cold. Come on, Ace — we've got work to do!"
Andrew Cartmel was the script editor on Doctor Who from 1986 to 1989. During his time on the show he introduced the seventh Doctor and his companion Ace (Sylvester McCoy and Sophie Aldred) and oversaw forty-two scripts written by eight writers new to the series.
With a clear mission to bring proper science fiction back into Doctor Who, he formulated what was later termed 'The Cartmel Masterplan', re-introducing the mystery to the character of the Doctor as the series celebrated its twenty-fifth anniversary and beyond.
Script Doctor is his memoir of this time based on his diaries written sometimes on set and sometimes not even in the diary itself but on the back of scripts. Illustrated with 32 pages of photographs, many of them not published before, this is a vivid account of life in the Doctor Who production office in the late eighties.