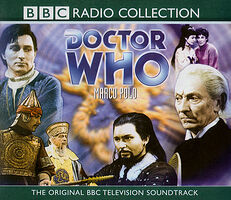 Note: This is an audio recording of the TV story with fill-in narration, not to be confused with the novelisation reading released in 2018. Subsequently remastered and re-released as part of The Lost TV Episodes: Volume One box set.
Cover blurb:
FIRST DOCTOR WILLIAM HARTNELL JOINS THE LEGENDARY VENETIAN EXPLORER MARCO POLO IN THIS 'LOST' BBC TV ADVENTURE, WITH LINKING NARRATION BY WILLIAM RUSSELL
'A caravan that flies! Do you realise what that will mean to Khan?'
When the TARDIS breaks down on the Roof of the World, Central Asia, in 1289, its occupants are met by the explorer Marco Polo. His mammoth undertaking is to cross the desert to Peking, and before long he has set his mind on presenting the TARDIS to the emperor Kublai Khan as a gift on his arrival. Unless they can persuade Polo otherwise, the Doctor and his companions will lose their only means to escape this moment in history.
However, Polo isn't the only one with designs on the TARDIS. The warlord Tegana will go to any lengths to steal the magical blue box — lengths which endanger the lives of the whole travelling party as they are beset by drought, bandits and the merciless desert. And when the Doctor finally meets Kublai Khan himself, the precious Ship is his only collateral in a high-stakes round of backgammon — and the Khan is a master of the game...
William Russell, who plays Ian in the story, narrates the soundtrack to this classic adventure which, long missing from the television archives, has itself gained legendary status as an example of Doctor Who at its finest. Hailing from the programme's first season (1963-4), it also stars Jacqueline Hill, Carole Ann Ford, and Mark Eden as Marco Polo.
An exclusive full-colour map, showing the route taken by Polo and company, is also included.