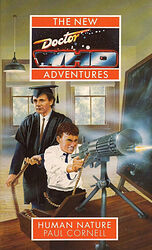 By:
Paul Cornell
Rating:
8.4 (65 votes) Vote here
Review:
Let This Be One Of The Novels You Read Read more (2 in total)
When:
May 1995

ISBN:
0-426-20443-3
Format:
paperback
Owned:
Buy:

New:
CDN$ 75.27
Used:
CDN$ 15.99
Note: As many fans will already know, this book eventually formed the basis for the acclaimed 2-part TV episode Human Nature / The Family of Blood in 2007 (though starring the Tenth Doctor rather than the Seventh). So far, it is the only New Adventure (indeed, the only Doctor Who novel) to inspire an episode of the TV series, rather than the other way around.
For several years, this novel (along with several others) was available as a free downloadable e-book from the BBC Doctor Who site, however it was removed in late 2010.
Cover blurb:
'Who's going to save us this time?'
April, 1914. The inhabitants of the little Norfolk town of Farringham are enjoying an early summer, unaware that war is on the way. Amongst them is Dr John Smith, a short, middle-aged history teacher from Aberdeen. He's having a hard time with his new post as house master at Hulton Academy for Boys, a school dedicated to producing military officers.
Bernice Summerfield is enjoying her holiday in the town, getting over the terrible events that befell her in France. But then she meets a future Doctor, and things start to get dangerous very quickly. With the Doctor she knows gone, and only a suffragette and an elderly rake for company, can Benny fight off a vicious alien attack? And will Dr Smith be able to save the day?
Paul Cornell has written three previous books in the New Adventures series; this is the final book in the cycle of stories which began with Timewyrm: Revelation. He also wrote the first of the Missing Adventures, Goth Opera. He created the character of Bernice Summerfield and writes lots of things. He lives in Aylesbury.