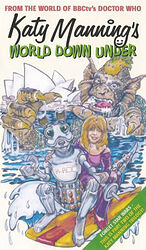 Note: Sequel to Where on Earth is... Katy Manning — both documentaries were subsequently re-released together on DVD. Despite the front cover's claim that this is "part two of the Katy Manning trilogy", a third video was never released.
Cover blurb:
Four years later...
Katy:
interviews ROBERT KITTS, KEFF McCULLOCH amongst others at a Aussie Dr. Who convention...
gives us a whirlwind tour of Sydney!!
visits UKTV
embarrasses her children again!!
persuades her partner, Aussie legend Barry Crocker, to step in front of the camera with her...
takes a sideways look at DOCTOR WHO fandom in Australia!!