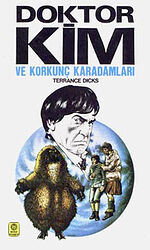 Edition:
Turkey (paperback)
Title:
Doktor Kim Ve Korkunç Karadamları
Released:
April 1975

Publisher:
Remzi Kitabevi
ISBN:
None
Format:
paperback
Owned:
Note: The Turkish title roughly translates as The Ghastly Snowmonsters. One of 6 Turkish novelisations, all published in 1975 — the others were: The Daleks, The Cybermen, The Auton Invasion, The Doomsday Weapon and The Day of the Daleks.
Cover blurb:
Bir zamanların barışsever KARADAMLARI, Yeti'ler neden ölüm saçıyor? Yetileri yöneten büyük zekanın amacı nedir?
Uzay-zaman makinesiyle 22'nci yüzyılda Himalayalara ulaşan DOKTOR KİM, dünyayı tehdit eden büyük tehlikeyi önlemeye çalışıyor.
İngiltere'nin BBC televizyonunda yayınlanan bu bilim-kurgu dizisi, çocukların ve gençlerin hatta daha çok, büyüklerin ilgisini çekmiştir.
English translation:
(Note that for some reason, the story is described as being set in the 22nd century!)
Why are the once peaceful Yeti SNOWMONSTERS now spreading death? What is the aim of the Yeti-controlling Intelligence?
In the Himalayan mountains of the 22nd century, DOCTOR WHO tries to prevent the great danger that threatens the world.
Book adaptation of the English BBC television science fiction series for children and young people, that even intrigues adults.