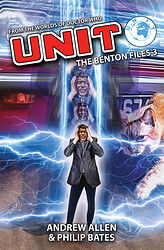 Description: Collection of two short stories featuring Sergeant Benton and third in The Benton Files series. Given free to purchasers of the Operation Fall-Out hardback edition but also available to purchase separately.
Cover blurb:
Join retired Sergeant Major John Benton, as he recounts two more tales of his exploits from yesteryear. Life proves to be no less quiet and retiring for Benton after his time with UNIT, when he's running JB Motors in Wiltshire.

In Wickard's World by Andrew Allen, Benton is offered an unusual used car to sell on by a friend, only to discover that the car has many hidden secrets.

In Philip Bates' A Right Old Run Around, Benton tries to assist three fugitive aliens. The only problem is, they are only about 5mm tall. It turns out size is the least of Benton's worries when their persecutors arrive.

Will Benton ever escape the legacy of his time with UNIT? Will JB Motors survive with its stock intact?

Read these two hair-raising adventures to find out...