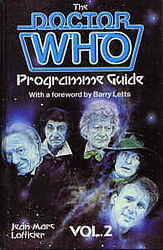 Edition:
UK (hardback)
Released:
May 1981

Publisher:
WH Allen
ISBN:
0-491-02885-7
Format:
hardback
Owned:
Buy:
Cover blurb:
When was the first Dalek story televised?
Who wrote the script?
When did K9 first appear on the scene?
How many Doctor Who programmes have there been, and how many of the stories have been novelised?
The Doctor Who Programme Guide — volumes one and two — is the answer to a Doctor Who fan's prayers. Jean-Marc Lofficier has gathered together from a variety of sources the detailed information that intrigues the Doctor Who following. No Doctor Who library is complete without it.
Volume 2
This volume contains an index of people, places and phenomena in the world of Doctor Who, a list of the Doctor's companions, a list of the people involved in the making of the BBC Television series, and a list of book adaptations, with cross-references to the filmography of Volume 1. Details of the spin-off films, stage play and records are also given.