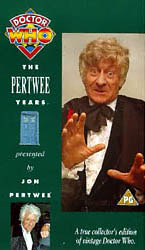 Edition:
UK (VHS)
Released:
March 1992

Publisher:
BBC Video
Format:
1 x VHS PAL
Owned:
Buy:
Cover blurb:
Following his first appearance as the Doctor's third incarnation on 3rd January 1970, Gallifrey's most famous native was ably played by Jon Pertwee as a suave dandy with a love of gadgetry and a passion for old cars. On this special video, Jon Pertwee recalls the Pertwee years including:
His first screen appearance as the Doctor.
Episode 7 of INFERNO (1970).
A glimpse into the costume and special effects store at BBC Enterprises.
The final episode to feature the Master as played by ROger Delgado (1973) from THE FRONTIER IN SPACE.
A rare close look at the 'Whomobile' from a 1973 episode of Blue Peter.
Unique footage of title sequence tests which were never used plus a very different version of the familiar theme music.
An excerpt from THE FIVE DOCTORS plus a sneak look in at the Doctor Who celebration held at Longleat, Wiltshire — both of which celebrated the programme's 20th anniversary.
Jon Pertwee's personal favourite — the final episode of THE DAEMONS (1971).