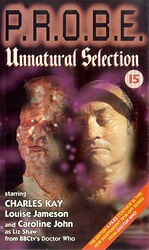 Edition:
UK (VHS)
Released:
October 1996

Publisher:
Reeltime Pictures
Format:
1 x VHS PAL
Owned:
Buy:
Cover blurb:
P.R.O.B.E.
PRETERNATURAL RESEARCH BUREAU
Doctor Liz Shaw
Working with the United Nations Intelligence Taskforce (UNIT) and their mysterious scientific advisor make her the ideal choice to head PROBE.
Patricia Haggard
Liz's long-time friend and ally in Whitehall.
Unnatural Selection
In 1975, the British Government quietly closed down a secret evolutionary project codenamed BEAGLE, ordering the destruction of all research materials.
Today, the horrific discovery of several oddly mutated bodies alerts Liz Shaw and PROBE to the fact that something is stalking the original site of project BEAGLE — something which may challenge the very nature of humanity itself!
With a crack security team at her disposal, Liz desperately attempts to track down the perverted results of the project.
But just who or what is hunting whom?
As an added bonus we include the first part of Stranger Than Fiction, a behind-the-scenes look at the making of BBV video drama. Part two is featured on the next exciting PROBE title Ghosts of Winterborne. (RTP0157)