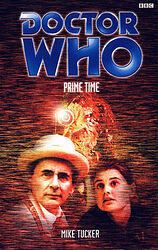 There are 5 reviews so far. To add a review of your own for this item, visit the voting page.
By:
Anthony V., Queens, NY, USA
Date:
Friday 1 February 2002
Rating:
9
This book reads just like an episode of DOCTOR WHO; it were actually broadcast on TV, there would be almost nothing taken away from it, it was that vivid and exciting to read. I'm only sorry to say that I finished it in one day, whereas the books usually take a week! MORE MORE MORE!
| | | |
| --- | --- | --- |
| | | |
| | Mike Tucker is a brilliant ("rhyme")! | |
| | | |
By:
Xantos, London
Date:
Saturday 11 September 2004
Rating:
9
Mike Tucker is brilliant he has Mc coy and
Aldred down the spots on there face!
Oh and liked the fact that there was a surprise entrance by... oh i won't say i might spoil it for some!
By:
travis, London
Date:
Sunday 12 September 2004
Rating:
9
Prime time is brilliant,simple,simple like a visit to the chemist or a walk in the park or turning on the … Oh! Sorry I went of the point there. So your sitting there thinking that I'm going to reveal all of this story's secrets, like revealing celebrity secrets in the latest issue of the heat magazine, well tough because I'm not,you're just going to have to buy and see. You poor pathetic fools, you thought I'd tell you everything ha ha ha ha ha ha ... I love that part.

A straight-forwardly enjoyable story. The Doctor and Ace are written perfectly, as is the errm 'villain'. Not sure about the cover though...
By:
Max Allen, London, United Kingdom
Date:
Thursday 14 April 2011
Rating:
7
The Real McCoy