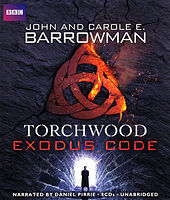 Since its debut in 2006, the Doctor Who spinoff series Torchwood has, in addition to a range of tie-in novels, also spawned a range of audio CDs, listed on this page. The first 3 were readings of previously-published novels, but since then the range has been evenly split between full-cast audio dramas and original audiobooks (i.e. single-narrator readings of stories written specially for audio).
There are a couple of other audios listed elsewhere on this site which would be of interest to Torchwood fans:
Music soundtracks were released for Series 1-2 and Children of Earth.
John Barrowman released an audio reading of his memoir Anything Goes, which of course includes a hefty dose of his experiences working on Torchwood.