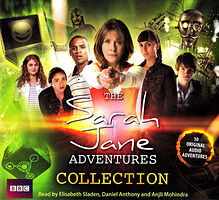 In 2002 and again in 2006, Big Finish, creators of the New Audio Adventures, released two short series of original audio dramas starring Elisabeth Sladen, reprising her Doctor Who role as investigative journalist (and companion to the Third and Fourth Doctors) Sarah Jane Smith.
Sarah Jane has always been a popular character among fans and viewers, ultimately leading to the successful launch of her own spin-off TV series in 2007, The Sarah Jane Adventures. That TV series spawned 10 of its own original audio dramas released by the BBC — which, in keeping with the audience for the series, are aimed primarily at a younger demographic than the earlier Big Finish dramas. Both the Big Finish and BBC audio series are listed here.
Sadly, the range looks set to come to an end with the untimely death of Elisabeth Sladen in April 2011.