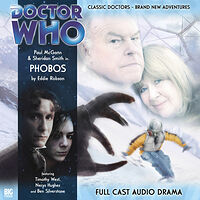 An offshoot from the New Audio Adventures, this series of audio dramas from Big Finish featured Paul McGann's 8th Doctor and companion Lucie Miller, played by Sheridan Smith.
This separate series was originally commissioned from Big Finish by the BBC and broadcast on the radio channel BBC7 roughly simultaneously with the CD release.
The series continued successfully in this way for over 4 years before being wound up in March 2011 — after this, any future Eighth Doctor audios will appear as part of the main New Audio Adventures range instead.