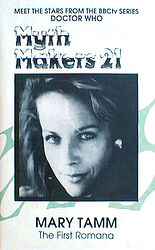 This page only lists Myth Makers VHS/Betamax releases. In 2003, Reeltime switched over to DVD production — Myth Makers DVD releases are listed on a separate page.
In 1984, independent British video production company Reeltime Pictures released the first of a series of Myth Makers videos — interviews with the stars of Doctor Who.
A couple of decades later, the range now comprises dozens of interviews, covering practically all the major luminaries of the Who world — actors, writers, producers, directors and even extras! Most of the interviews are conducted by actor/writer Nicholas Briggs, nowadays best known as being the voice of the Daleks & Cybermen in the new Doctor Who TV series.
By now, all of the VHS Myth Makers have been re-released on DVD — with the sole exception of the Tom Baker interview, for reasons unknown.
Note: Most of the first 2 dozen Myth Makers were released separately in the US by a different distributor, but (confusingly) with different numbers, and in several cases, with 2 interviews combined together in one release. Also, the first 16 videos were re-released in the UK by Reeltime during the 90s with extra footage and (in most cases) brand new interviews with the stars in question. The full details of any such re-releases are noted on the page for each interview.
Best bet for picking up these videos (apart from eBay) are in specialist shops, such as Galaxy 4 or Who North America.