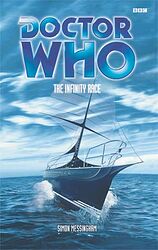 In May 1997, Virgin's licence to publish Doctor Who fiction reverted to the BBC, who henceforth began publishing two ranges of original novels, one featuring Paul McGann's Eighth Doctor and one featuring the past seven Doctors. Unlike the standalone "past Doctor" novels, the 8th Doctor novels were written as a more-or-less continuous "series" of adventures, much like Virgin's New Adventures.
This series continued until June 2005, when it was halted to make way for the new TV series and its corresponding range of new series novels.
The 8th Doctor books featured a series of new companions for the Doctor, such as Samantha Jones (a rebellious English teenager), Fitz Kreiner (a roguish dreamer from the 1960s) and others. Established enemies also popped up from time to time, including the Daleks, the Zygons, the Master and more.
However, in a similar way to the New Adventures, the 8th Doctor books attempted to bring some freshness to the Doctor Who universe, though this did of course mean a few sacred cows met a sticky end along the way — for example, one plot arc involved Gallifrey being destroyed! This approach proved popular with many fans, though others may prefer to stick to the more "traditional" past Doctor books.