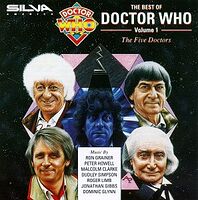 By:
Unknown
Rating:
6.8 (4 votes) Vote here
Review:
None yet Add a review
When:
June 1993

Publisher:
Silva America
Format:
1 x CD
Owned:
Buy:

| | | |
| --- | --- | --- |
| | | (Request failed) |

New:
CDN$ 198.80
Used:
CDN$ 63.18
Note: Not to be confused with the 1992 UK CD which used a similar title and artwork, this US compilation features a mix of tracks previously released on Doctor Who: The Music and Doctor Who: The Music II, plus the "Terror Version" of the Doctor Who theme, from Variations on a Theme. Followed by The Best of Doctor Who Volume 2: The Greatest Show in the Galaxy.
Cover blurb:
None.
Track listing:
Tardis — Doctor Who (Original Version) (2:37)
The Sea Devils (5:19)
The World of Doctor Who (2:39)
The Keeper of Traken (2:24)

(a) Nyssa's Theme

(b) Kassia's Wedding Music

(c) The Threat of Melkor

The Leisure Hive (5:32)
Three Themes by Peter Howell (3:28)

(a) Banqueting Music from "Warrior's Gate"

(b) TSS Machine Attacked from "Kinda"

(c) Janissary Band from "Snakedance"

Earthshock (8:24)

(a) Subterranean Caves

(b) Requiem

(c) March of the Cybermen

Doctor Who — Reprise (Original Version) (1:25)
The Five Doctors (8:43)
Doctor Who — 1980 (2:41)
Enlightenment (7:51)
The King's Demons (5:18)
The Resurrection of the Daleks (5:02)
The Caves of Androzani (6:03)
Doctor Who — Terror Version (4:13)
Doctor Who — 1980 (Reprise) (0:51)